Burmese Helper (Myanmar)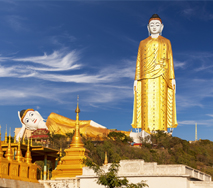 At a Glance
Since 2010, an increasing number of Burmese workers have begun seeking employment abroad following political and economic reforms in Myanmar. Many Burmese workers are already employed as domestic helpers in Singapore, Malaysia, and Taiwan.
In early 2014, following a long period of evaluation, the Myanmar government granted select Hong Kong employment agencies the right to recruit and place Burmese domestic helpers in the territory. Overseas Employment Centre Ltd. was among the first employment agencies in Hong Kong licensed to recruit and place Burmese domestic helpers.
Burmese helpers, especially those working in Singapore, have already developed a reputation for a strong work ethic, and are highly sought after by employers. Myanmar remains one of the poorest nations in Southeast Asia, so it is not surprising to see domestic helpers from Myanmar exhibit a remarkable willingness to work hard for the opportunity to support family and loved ones back home.
Burmese Culture and Cuisine
Burmese culture is heavily influenced by Buddhism, as well as a historic connection to its neighbors Thailand, China, and India. More recent British Colonialism and Westernization has also had a significant impact. From an early age, children in Myanmar are taught to respect and venerate one's elders and to be kind to the young. Elders, in particular, are spoken to in a more respectful manner with a special vocabulary that is age-dependent.
Burmese cuisine has similarly been influenced by dishes from neighboring India, China and Thailand, as well as domestic ethnic cuisines. Burmese cuisine can be described as having a mildly spicy taste, with a limited use of spices.
Looking Ahead
In the coming years, as government policy continues to limit the number of Indonesian helpers working in Hong Kong, helpers from Myanmar are expected to make up for that shortfall and become the fastest growing population of domestic helpers in the territory.
| | |
| --- | --- |
| Language | Conversational in Cantonese OR English, native Burmese |
| Education | Junior to Senior Secondary Levels |
| Age | 23 – 42 |
| Religion | 90% Buddhist |
| Training | While many already have previous experience from Singapore or Malaysia, our helpers attend specialized training programs for up to 7 months that include courses in baby care, elderly care, and language training. Helpers are eligible for 12 months of free supplemental training courses in Hong Kong. |